No, this isn't about evolution because that's just bananas. So what am I talking about?
This week, you may have heard about the Donald Sterling, the former owner of the NBA's Los Angeles Clippers. Mr. Sterling was caught saying some racist things on tape and as a result, received a lifetime ban from the NBA. This means he cannot attend any NBA event for the rest of his life. Adam Silver, NBA Commissioner (boss), wanted to make sure that Mr. Sterling was justly punished so that everyone knew that the NBA does not tolerate racism.
Meanwhile, somewhere else in the wide world of sports…Dani Alves, player for the Barcelona national soccer team, was battling his own fight with racism. During a game against Villarreal, Alves went to take a corner kick and fans started shouting racist insults and throwing things onto the field. Among those things was a banana. Instead of getting upset, Alves calmly picked up the banana, took a bite out of it, and proceeded to take the corner kick. 
That's awesome.
Instead of making a big deal about, Alves turned the other cheek. As a result of that, Neymar, a teammate of Dani Alves, went on Instagram and posted this picture: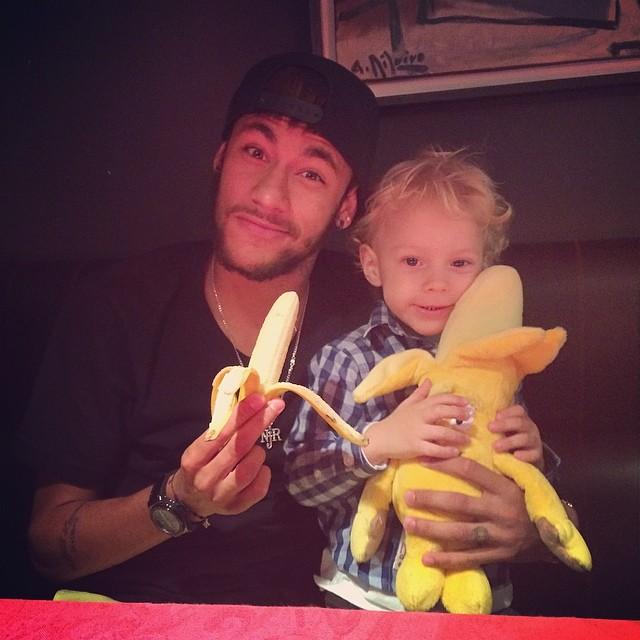 I love the fact that most everyone is on the same page about racism; it's terrible. But times like these serve as a great reminder that Jesus wants us to respond to hateful comments with love. It's a hard thing to do, but the results are always incredible. 
Romans 12:21 – Do not be overcome by evil, but overcome evil with good.
Happy Sabbath!