How were the Newton sports teams affected by the tragic event?
I've haven't been on the Earth that long, but the tragedy that happened in Newton is truly one of the saddest things I've ever witnessed. There are so many sad stories that are coming out of this. Being that this is the Sports Zone, I found two sports stories from Newton this week that are not only moving but also inspirational.
Story 1:
Knowing that the Newton High School would be used to host the memorial, Head football coach Steve George took the time to write a note of gratitude on his whiteboard to the President of the United States, Barack Obama. The note read:
Dear President Obama,
"The Newton community is so thankful that you are coming to help us heal. In times of adversity it is reassuring to know that we have a strong leader to help us recover.
-Steve George, Teacher/Football Coach
-Bobby Pattison, Teacher"
Much to George's surprise, President Obama found that note and wrote back, "You're in our thoughts and prayers. – Barack Obama" The picture is below.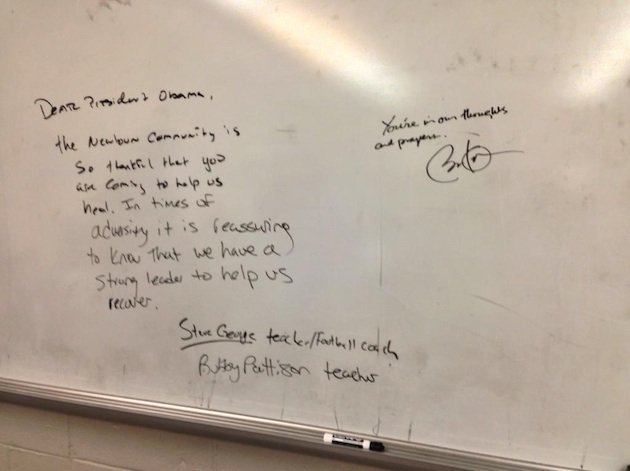 Story 2:
This past Wednesday night, Dec. 19., was the first time the Newton Girls Varsity Basketball team took to the court. The girls were scheduled to play their longtime rivals, Masuk from Monroe.
According to the article I read, all along the gym walls there were cutout stick figures with linked arms. A banner reading "Newton Strong" was placed just below the scoreboard. There were also 26 balloons in Sandy Spring school colors on the sideline; 20 white for the students killed and 6 green for the adults/staff killed. Lastly, there was a 26-second moment of silence for the victims. Also, $2,200 in donations were collected for the families of the victims.
I'm happy to report that Newton beat Monroe 64-44.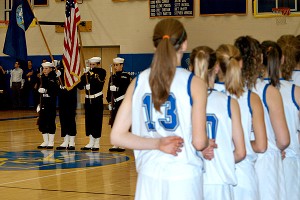 Final Thought
I'm deeply saddened by what took place in Newton, but in times like this, I'm reminded that God has the final say and that one day there will be no more sadness; just joy. These events also help me to remember that sports aren't just about winning and losing, it's about ministry. That Wednesday night, the basketball game meant so much more than just another game. It was an opportunity to pay respect to the victims and to also try to return to normalcy. Sports serve as great motivational tools, but they become very powerful when God is the "Athletic Director." Happy Sabbath and remember to say a prayer for those who don't yet know about Jesus.