So the Seattle Seahawks lost to the New England Patriots within the final seconds of the Super Bowl XLIX, but how does Russell Wilson feel about it?
Losing, in any sport, is a really tough feeling to handle. Imagine how quarter back Russell Wilson felt when his team lost the Super Bowl. Like anyone, he was upset over losing, but even in the midst of that, he was still able to keep things in perspective.
"Even though I love the game of football and I love watching film and all that, it's going to end at some point," Wilson said. "In terms of my legacy off the field, I want to be a Christian man that helps lead, and change lives and helps serve other people," Wilson said. "It's not about me, it's not about me. It's about helping other people. And that's where I keep my focus more than anything."
So if it's not about Wilson the player, then what is it about?
"My faith is everything: God comes first, family and friends come second, and football comes third," Wilson said. "I think when you keep it in that order, great things happen to you. You don't stress out about much."
Russell Wilson's team mate also helped Wilson look at his sadness in a different way:
"Somehow, some way, that story is going to help that person get better, the same way the game is going to help him get better as a quarterback."
Every year I think it's important to state that sports are not the end-all be-all. It's just a game. The beauty of it though is that even a simple game can be used as a witnessing tool once Jesus is the ultimate goal.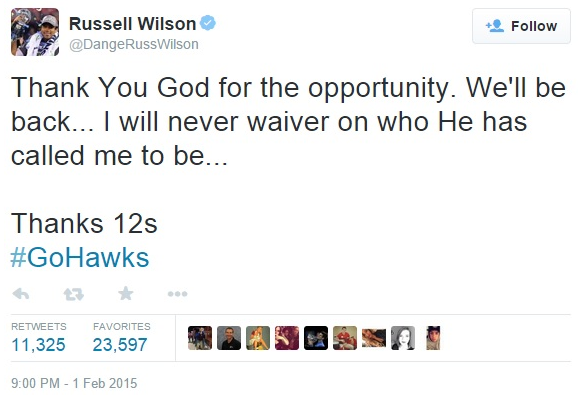 Quotes were pulled from: Gospel Herald