My question is, how dedicated are YOU?
Meg Roh is a 15-year old girl who has been surfing every day of her life since she was 12. What started off as an idea has turned into a ritual. Every day, Meg gets up and is in the water by 5 a.m. Her goal is to catch at least five waves before she goes to school. On June 1, 2014, she'll have reached 1,000 consecutive days of surfing. Meg admits that it was hard on some days. There were times throughout her journey when she didn't feel like getting up, and days where she was on vacation and didn't have her regular opportunities to surf. There were even days when she felt sick and was running a fever, but still, she made the effort to surf every day.
Now that's what I call dedication. Meg doesn't know how long she'll be able to keep this up, but she wants to do it until she can't do it anymore.
When I read Meg's story, I thought about my own dedication to being a Christian. There are some days when I feel sick of always loving my neighbor and turning the other cheek. There are days when I want to take a vacation from reading my Bible because I'm not in my regular setting, but you know what? I have to be more dedicated. I've got to keep being a Christian until I can't be a Christian anymore, right? That's the promise I made to God when I was baptized, and I plan on keeping it. Why? Because being a Christian isn't just my passion, it's part of my every day life.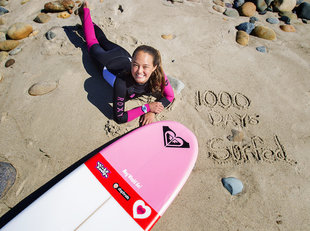 How dedicated are you?